Share Machine prides itself on the quality, dependability, and affordability of its CNC machined manufactured parts.
Our CNC machining, turning, and milling processes include all types of turning, boring, broaching, and more. Using the most technologically advanced capabilities, we can work with tolerances up to ± .0001 inches.  Share Machine has a full variety of CNC lathes, CNC mills, and fixturing options enables us to meet your unique requirements. With our 3, 4 and 5-axis machinery, we can custom manufacture parts of the highest quality to meet your demands.
At Share Machine, Inc you are guaranteed quick quotes, competitive prices, precision and quality along with on time delivery. Whether your project requires larger, complex machining or intricate, smaller parts, the employees at Share Machine deliver.
Our CNC machining process can produce parts for a variety of industries that include automotive, food service, medical, pump & valves, scientific, and many more.  We consider no order be too small or too big for us to handle.
Because of our quality standards we can provide custom CNC machining for a variety of industries including:
Food Processing
Pump
Valve
Medical
Construction
Packaging
Pharmaceutical
Mechanical
Meteorological
And Many More!
We also do in-house fixturing and tooling.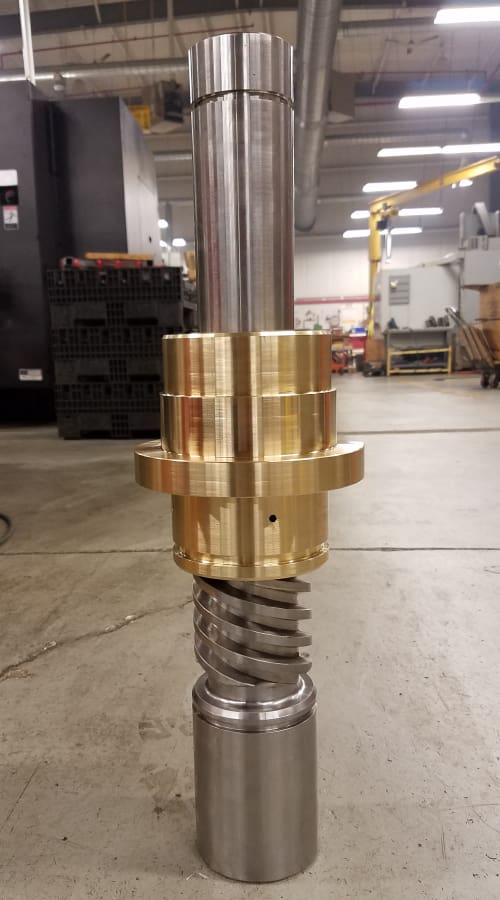 Some of the Many Materials We Work With:
Aluminum, Brass, Bronze, Steel, Stainless Steel, Alloy Steel, Hi-Temp Alloys, Exotics, and Plastics.
Some Of Our CNC Machining Manufacturing Parts
Spider Arms for Industrial Dough Mixer
2023-04-28T09:01:40-06:00
Fusion Chamber
2023-04-28T12:42:01-06:00
Medical Micro Impellers
2023-04-27T15:18:12-06:00
Slide Plate
2023-04-28T13:00:21-06:00
Custom Machined Plate
2023-04-28T12:36:57-06:00
Shear Assembly
2023-04-28T11:00:40-06:00