Delivering A New Era Of Excellence
With our state of the art production capabilities, Share Machine leads innovation yet again in this uniquely designed portable CNC unit.
Share Machine has developed an industrial grade portable CNC machine that provides the strength and the ability perform under the extreme tolerances needed.  The compact design with maximum rigidity provides the accuracy needed that needed for applications that prevent typical disassembly and expedite those machines returning to an operational status.  Share Machine's portable CNC provides incorporates Fagor Digital Server Drives and Motors, as well as Conversational ISO programming.
Why Our Customers Partner With Us
• Onsite Machining Equipment
• Fagor conversational advance CNC controller
• Design with high rigidity, accuracy, and repeatability
• 10KW Spindle with HSK-63 Easy Clamp/Unclamp Tool Holder
• Trough Coolant to ejects chips during operation from deep holes.
• Capable of Milling, drilling, tapping, and threading.
• Designed for the accurate removal of cracked or broken studs up to 11" diameter and the precise refurbishment of damaged threads. Typical examples include manway covers and reactor studs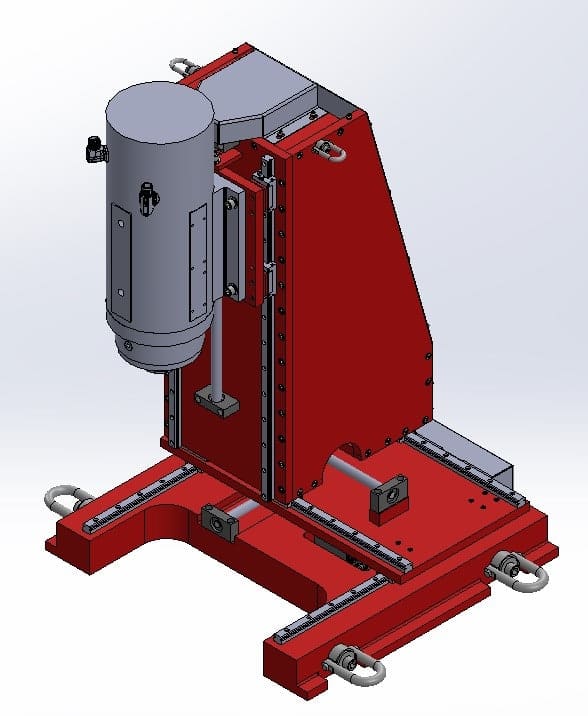 Specifications
CNC PORTABLE MILL
X, Y, Z travel
10 x 10 x 20 inches
Spindle Power   
10Kw, 2000RPM, 115Nm
Spindle Taper
HSK63-A
Application
Designed to drill, mill, bore and thread hole diameters up to Ø10"X19" deep
Accuracy
<0.0005" (0.01mm)
Repeatability
0.0001" (< 0.003mm)
Controller
Fagor CNC with Conversational Programming
Voltage
480V AC, 3~
With 40 years of experience in manufacturing parts, designing electronic and electromechanical and automated systems, we can provide custom CNC Machines for different applications.