Share Machine prides itself on the quality, dependability, and affordability of its custom manufactured parts.
Our CNC machining, turning, and milling processes include all types of turning, boring, broaching, and more. Our full variety of CNC lathes, CNC mills, and fixturing options enables us to meet your unique requirements. With our 3, 4 and 5-axis machinery, we can custom manufacture parts of the highest quality to meet your demands. Using the most technologically advanced capabilities, we can work with tolerances up to ± .0001 inches.
At Share Machine, Inc you are guaranteed quick quotes, competitive prices, precision and quality along with on time delivery. Whether your project requires larger, complex machining or intricate, smaller parts, the employees at Share Machine deliver.
We manufacture custom parts for a variety of industries that include automotive, medical, pump & valves, scientific, and many more.  We consider no custom order be too small or too big for us to handle.
Because of our quality standards we can provide custom CNC machining for a variety of industries including:
Food Processing
Pump
Valve
Medical
Construction
Packaging
Pharmaceutical
Mechanical
Meteorological
And Many More!
We also do in-house fixturing and tooling.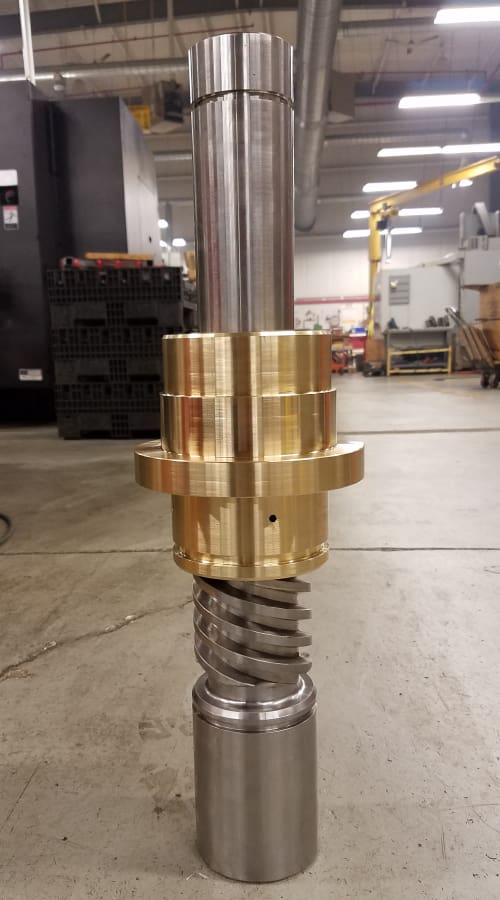 Some of the Many Materials We Work With:
Aluminum, Brass, Bronze, Steel, Stainless Steel, Alloy Steel, Hi-Temp Alloys, Exotics, and Plastics.
Secondary & Finishing Services
Plating
Heat treating
Polishing
Grinding
Painting
Gear Hobbing/Cutting
Sandblasting
When it comes to creating custom parts and prototypes for your next automotive application, turn to Share Machine. With a wide array of high temperature materials and versatile technologies, Share Machine makes it easy to quickly make your design a reality. We've worked with automotive and heavy equipment companies to provide manufacturing solutions.
Share Machine offers medical component machining for medical equipment parts that require high precision and close attention to every detail. Our experience has taught us how to produce parts that meet your specifications, on time and on budget.
We have wide experience machining high precision parts for the medical equipment industry, including prototype parts and short run production parts. We've also done complete process development to help customers bring new products to market.
We have experience with unusual materials like titanium, tungsten and various plastics.
No matter the aspect within the Food Processing Industry, Share Machine is able to manufacture parts with a variety of metals and plastics to ensure that the quality standards are met.  From stainless steel fabrication for components that are in direct contact with meat, poultry, and liquids, to components that are a hybrid of metals and plastics for plastic wrap and bag manufacturing.  We can make the specialty food industry part that you need.
Share Machine produces large quantities of pump shafts and related parts to ensure proper operation for water systems.  Additionally, we can custom make replacement shafts and parts to meet the demand needed for pump that are already working at a location and need maintenance actions to restore them to full operational status.
Just A Few Of Our Custom Manufacturing Capabilities
Assembly Fixture
2023-04-28T10:44:10-06:00
Slide Plate
2023-04-28T13:00:21-06:00
Housing
2023-04-28T12:53:19-06:00
Shear Assembly
2023-04-28T11:00:40-06:00
Food Processing Plates
2023-04-28T12:44:29-06:00
Fusion Chamber
2023-04-28T12:42:01-06:00